Recently, we listened to a recording of The Trumpet of the Swan, read by the author himself, E. B. White.  It was so good I actually listened to it twice, once with the older boys while the twins spent a week at my mom's, and then again the following week with the twins while the big boys went to a day camp.
E. B. White is one of my favorite writers, and this book displays the very best of his nature sensibility and dry wit.  The book tells the story of Louis (pronounced Louie by the author in the recording), a trumpeter swan born without the ability to make a single sound.  A trumpeter swan who can't trumpet!  His father attempts to remedy the situation by procuring a brass trumpet for Louie in a most remarkable way, and the story takes off from there.
It's a classic and very funny.  We loved it, but I will note that Louie makes a bizarre deal with a zookeeper at the end of the book to insure his mate's freedom, and it disturbed us all.  It seemed completely out of character.  I don't know what to say about that except that the rest of the book is worth the strange ending.
E. B. White's collection of essays
is also one of my favorite books, and I was excited to find one of his essays available online here.  I love reading essays; they are so much less work than novels, which often either draw me in so completely that I can't concentrate on anything else until I finish the story or bore me to tears.  Essays can be picked up and put down quickly and so are a good genre for busy moms, in my humble opinion.  This is why I love First Things.  And blogs.  Just a little something to think about until the next free moment.
Lately I've read two books of essays by one of my favorite professors from college and contributor to First Things, Alan Jacobs.  He taught at Wheaton for many years but just moved to Baylor this past fall.
First came The Pleasures of Reading in an Age of Distraction.  This was a fun book that felt like being right back in one of his lectures.  His point: reading isn't dead or dying.  It's alive and well, and ebook devices actually help us read more.  I have found this to be so true of my Kindle.  It has probably doubled my reading output (input?).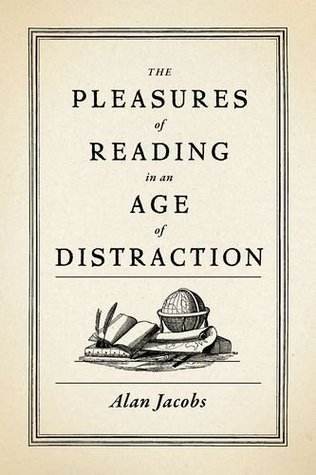 The second book was Wayfaring: Essays Pleasant and Unpleasant.
 In the intro, Jacobs argues that the essay is the best genre for charting the way the mind actually works–not necessarily stream-of-consciousness writing, which attempts to mimic our sensory experiences, but writing that represents how the mind jumps from an idea to a memory to a question and so on.  The essays here meander from witty book reviews to meditations on trees and the reasons friendships end.  All good reads.
And now, let's all stop and say a prayer that the reason Jessica hasn't yet posted her link-up today is that she is having a baby!