I first read George Eliot's Middlemarch as an earnest high school sophomore, eager to impress my English teachers and myself by reading through an 850-page 19th-century novel.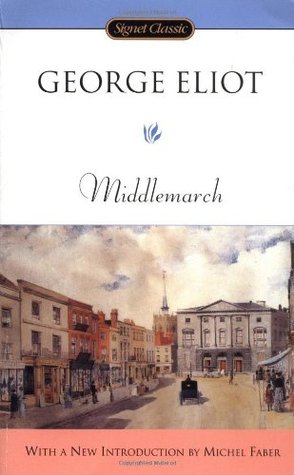 I didn't understand most of the plot, but I got the most important part for a teenage girl down: the love story.  I read it again in college, where I tried to figure out the plot line about Bulstrode's finances and began to wonder whether the love story was as great as I'd first thought.  And then I came back to it again as a young wife and mother, where I began to pay attention to some of the other love stories, happy and unhappy.
Although Middlemarch spoke to me as a young adult, it is a book that improves with re-reading, dealing as it does with the theme of middle age: disappointed dreams.  Rebecca Mead has read Middlemarch many times, every 5 years for at least 25 years, and her memoir My Life in Middlemarch artfully weaves her own history with the novel with the history of its writing by George Eliot.  In many ways, her book is even more a biography of Eliot than a personal memoir.
Mead first read the book as a teenager in a provincial English town she was eager to escape.  As she re-read the book through college, the beginnings of a career, marriage, and motherhood, always the book's wisdom illuminated her journey.  Now, as a middle-aged writer, she returns again to the story and even more to the story of its writing.
My Life in Middlemarch began with this excellent article Mead published in The New Yorker in 2011.  There she describes the irony of a quote often (falsely) attributed to George Eliot: "It is never too late to be what you might have been."  Mead points out that although Eliot did find happiness and wrote her masterpieces in her middle age, her fiction is all about how it is too late for most all of us to be what we might have been, and yet how beautiful the "unrealized" life can be.  Eliot provides a model of living an ordinary life with dignity.
I found especially poignant the passages about how Eliot acknowledged the loss she felt by choosing not to become a mother, and how she recognized the impossibility of combining writing with mothering.  There's so much pressure today for women to combine a successful career with a bustling home life, and I always appreciate a writer who acknowledges that it just isn't always possible to have both.
If you haven't read Middlemarch yet, start there!  But if you have, I think you'll really enjoy Rebecca Mead's book.
I am very grateful to Blogging for Books, which provided me with a free copy in exchange for an honest review.  If you're a blogger who loves books, you should definitely check out this program: free books to review on your blog!