Linking up with Melanie again for the week's recap.
Monday, September 22
We spent the morning volunteering at a food pantry with several other families.  The older kids prepared food, and the younger ones bagged non-perishables and decorated bags to put the food in.
In the afternoon, I decided to try dedicating 4-5pm for piano for all, one at a time.  It worked well and didn't take the entire hour.
Tuesday, September 23
Pondered whether or not we should be going to Mass every day. We had missed for over a week, and it's so easy to get back in the habit of moving slowly in the morning!  So I just said a little prayer that God would let me know if hurrying everyone out the door every morning is the best thing for us this season.
It was the feast day of St. Padre Pio, modern wonder-worker and bearer of the stigmata.  Our children have always been interested in him because their great-grandfather, Nathaniel's grandfather, visited with him in Italy.  At Mass, William correctly answered a question from the pulpit about Padre Pio. 🙂
Then, during the Prayers of the Faithful, the priest suddenly added in, "And I am so glad to see this lady with her five children at Mass, and we pray that there will be more and more children born in this world, let us pray to the Lord!"
Okay then, we'll keep coming!
We got home, and I cleaned up the kitchen while the kids played outside. We sat down together at 9:20, did some coloring and all the things.
In the afternoon, we were late to the park because I remembered I needed to prepare a devotional for an American Heritage Girls parents' meeting, and our printer kept malfunctioning.
Finally, we made it out the door to enjoy the gorgeous weather.  I stayed late talking to friends and had to hustle to get the kids home and myself out the door to the parent meeting. But they did all practice piano! It helps that I shortened my expectations for daily practice time.
Nathaniel read to the kids, and I didn't get home from the meeting until 11pm.  Our most organized paperwork mom is moving, and we are trying to figure out how we will survive without her!
Wednesday, September 24
I slept in until 7am.  I didn't get to exercise but at least I won't need caffeine to stay awake this morning. We went to Mass and got started with school by 9:30.
I showed the kids the beginning of a video series created by a Christian mission agency to teach children about Islam. It's basically a reality show of an American family visiting four different Muslim countries.  It doesn't have anything to do with what we are studying for history or geography right now, but I chose it because of the current events. It was an okay video, but I think it will make more sense to watch these in the evenings so Nathaniel can be with us, since he spent most of his childhood in Muslim countries.
As it was, the kids were pretty hyper all morning after watching it, which reminds me why I usually begin the day with play dough rather than videos. Interestingly enough, Marie didn't seem overstimulated, just the boys.
We narrated the video together, each of the three younger kids giving one or two sentences of what they remembered.  Then William added a thought of his own and ordered all the sentences into a paragraph that made sense.
Math, handwriting, reading, lunch, spelling.
I sat down to read with Teddy before his nap and asked him what he wanted me to read.  He said, "The Cow, by Robert Louis Stevenson, all red and white."  (This is the poem Ben and Marie are memorizing right now!)  I cracked up, and he cracked up and then kept saying it over and over again to keep himself laughing.
Yesterday he really began resisting the potty training. I've given it up for now, although he has asked randomly to go a few times.  I hoped he'd be ready earlier because he's so much more verbal than the other kids were, but no such luck.
My mom arrived in the evening to stay for a few days!  She had just been to visit Gettysburg and had lots of materials to show the kids.  She told stories about the battle to the kids until bedtime.
Thursday, September 25
Went to Mass and did our usual play dough time with memory work. I take notes for this post using voice recognition on my phone throughout the day, and I love how my phone thinks we study Plato every morning.
I'd read this article in The Atlantic about how schools in Finland successfully sustain students' attention spans by working for 45 minutes and then breaking for 15 minutes, every hour.  My younger kids get breaks like that or more, but I often keep William at his desk for longer stretches.
After memory work and a chapter of Charlotte's Web, I offered the kids a break and said we would start pencil and paper work at 10:15. The boys all bolted for the Lego room. Marie declined the break, walked to her desk and proceeded to do 30 math problems and six pages of handwriting practice. I shook my head in wonder at the phenomenon that is elementary school girls.
William finished By the Great Horn Spoon!, so I wanted him to start a novel about the Civil War. I picked Across Five Aprils, but I didn't take the time to read it this summer like I should have. He tried to read it this week, but it's too much for him–more an 8th-9th grade level book. I am going to try to skim a few other books I have for him, so he gets a free pass in literature for a couple of days.
In the evening, my wonderful mom took care of the children and Nathaniel and I had a date night.
Friday, September 26
We dropped Ben and Marie off at the Atrium and went to Mass.  The first reading was from Ecclesiastes: "There is a season for everything, a time for every occupation under heaven…a time for war, a time for peace."  
The homily was on the conditions for a just war, a timely topic. I think the boys were listening, but I haven't yet talked to them about it.
I took William, Louis, and Teddy to a park nearby, where we got a bit of work done
and a bit of play.
Knowing that attending daily Mass is not the easiest thing in the world for my crew, we have a reward system set up.  Good behavior 4/5 of the time gets them a doughnut on Friday. I can't be a pushover on this or I'll live to regret it.  One person lost all their doughnut this week, and another lost half.
We picked up our doughnuts, went back to the park for a while, and then went home to have lunch with Grandma and say our goodbyes.
Louis made deviled eggs.
During Teddy's nap, we cleaned the house. William also added to his history timeline. We have been using the Timeline Book from Sonlight for several years, and it's filling up.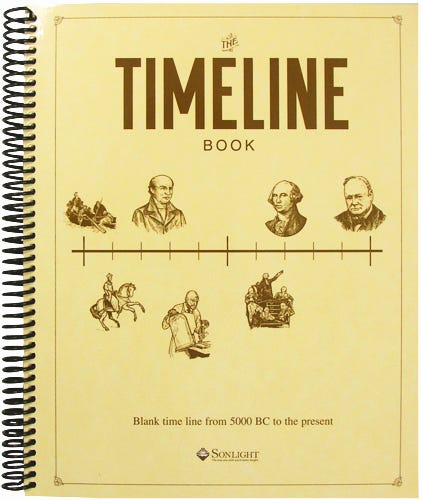 We use the timeline stickers from Sonlight that correspond to our history studies (Core E this year) and write in other historical figures we come across, such as the saints.
In the evening we hosted a gathering of the 9-12 year olds from our homeschool group. Our kids had a blast, and I think the others did too!
Saturday, September 27
We've got a lovely rhythm going to our Saturday mornings where Nathaniel does something science-y or yardwork or laundry with the kids and I have time off to take care of myself and do the errands alone. That's definitely working for me.
In the afternoon, we went swimming at Nathaniel's brother's house, which was great fun. We sat in a lot of traffic on the way there and back and therefore almost finished listening to Peter Pan.  It's quite well-written, whimsical with a dark, melancholy undertone.
We had a late dinner at home, and although it was the feast of St. Vincent de Paul, I hinted to all that it's hardly necessary to celebrate every single saint's day and I didn't have a dessert planned anyway. No one was having any of that though, and Louis got his saints for boys book and found the page about St. Vincent while Nathaniel came up with a dessert on the fly (pretzels and chocolate chips).
St. Vincent's work for the poor in Paris in the 17th century was so significant that almost all food pantries at Catholic churches are named after him. He essentially invented the idea of a food pantry. There's a marvelous film about him titled Monsieur Vincent (excellent review here). In one scene, St. Vincent, newly settled in a tiny hovel apartment, is kept up all night by his neighbors–family brawls, amorous meet-ups, and all manner of comings and goings all night long. The reality of the life he has chosen truly begins to sink into him.
It reminded me of the scene in The Brothers Karamazov (I actually made it through the first 100 pages!) where the wealthy woman says to Father Zosima that she could dedicate her entire life to the sick and the poor, if only they would be grateful. 
As St. Vincent said to those who served with him,
You are the servant of the poor, always smiling and good-humored. They are your masters, terribly sensitive and exacting masters you will see, and the uglier and the dirtier they will be, the more unjust and insulting, the more love you must give them.

It is only for your love alone that the poor will forgive you the bread you give to them.